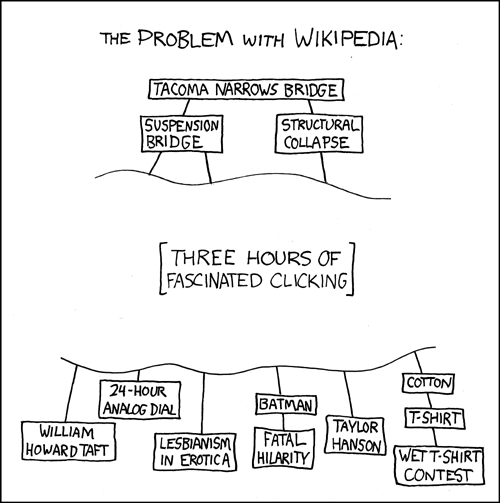 This is from a favorite online comic Xkcd. It relates closely to the game we're introducing this week: Wiki Walk. For this game it helps to be the kind of person that enjoys a bleery-eyed Wikipedia clicking binge.
The object of a Wiki Walk is to hunt for the shortest distance (measured in clicks) from a particular Wikipedia page to another. So, if you're looking for a path from the page Buffalo buffalo Buffalo buffalo buffalo buffalo Buffalo buffalo to the page Brfxxccxxmnpcccclllmmnprxvclmnckssqlbb11116 you could click as follows:
Buffalo buffalo Buffalo buffalo buffalo buffalo Buffalo buffalo —-> Noun —->Name —->List of unusual personal names —->Brfxxccxxmnpcccclllmmnprxvclmnckssqlbb11116
And there you have it, from our starting page to our target page in 4 clicks. The only rule is that you can only click on links to other wiki pages, no clicking on the External Links section.
For any particular wiki walk, there are probably multiple paths that qualify as the shortest. You're goal is to just find one of them. Give the game a try, it has a certain Zen to it.
Your first Wiki Walk is to navigate from Mental to Magma. Post your path in the comments section. Let's see who can do it in the fewest steps. If too many people get that one too quickly, then also try from Kelvin to Kevin Bacon.